Shuffield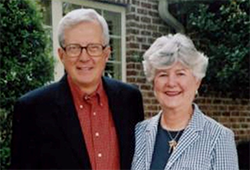 The residual from Sherron and Charles Shuffield's charitable gift annuity will fund the Sherron Shuffield Endowment to support the activities of an English honor society.
For Sherron Shuffield, who taught English at UAFS for 20 years, and her husband, Charles, giving to the University was an easy decision. The Sherron Shuffield Endowment will be funded with the residual of the couple's charitable gift annuity, which also provides them with lifetime payments.
The
Sherron Shuffield Endowment
is unique in that it will support an honor society — Sigma Tau Delta, the International English Honor Society. For a teacher and scholar of English, the ability to specifically help upper-level English students attend conferences, pay tuition and fees and bring distinguished speakers to campus was a perfect fit.
To show its gratitude, the UAFS chapter of Sigma Tau Delta inducted Shuffield as an honorary member during a ceremony in February 2010.